All professionals at Cardiovascular & Heart Failure Center maintain the highest levels of accreditation and pursue ongoing education to stay abreast of the latest trends in the field of cardiology. Read on to learn more about our staff's experience and training.
Carlos M. Orrego, MD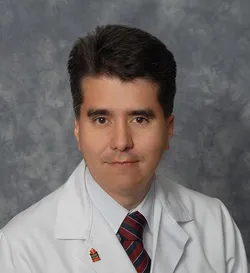 Dr. Carlos M. Orrego, a physician with more than 25 years of experience, has dedicated part of his life taking care of people. He is a very dedicated and compassionate physician who believes that every patient is unique and deserves personalized care. He graduated as a Medical Doctor (M.D.) from The Health Science Institute in Medellin, Colombia in 1993, and then worked for several years as a general practitioner helping people in his native country. From 1998 to 2000, he was a Sports Medicine and Exercise Resident at the University of Antioquia in Medellin, Colombia. After he completed his training he decided to move to the USA and entered the Internal Medicine residency at St. John's Episcopal Hospital/ SUNY Downstate New York. He then went back to Colombia where he completed a fellowship in cardiovascular diseases at The University of Antioquia. Following his dreams, he decided to return to the US and joined the prestigious Methodist DeBakey Cardiology Associates group at The Houston Methodist Hospital for several years. During that time, he held an academic appointment as Assistant Professor of Medicine at Weill Cornell Medical College, was involved in several research projects, and published several articles in the most important peer review journals; he also completed another fellowship training in Cardiovascular disease as well as Advanced Heart Failure and Transplant at the same institution. He worked in Houston for several years and then moved to Phoenix, Arizona in 2016 where he worked in private practice and then decided to open his own practice in 2018.
His cardiology interested and expertise include Heart failure, cardiac arrhythmias, coronary artery disease, prevention and treatment of heart disease, management of cardiovascular risk factors, early detection of heart disease by coronary calcium score and vascular ultrasound, nuclear cardiology and echocardiography. He strongly believes that targeting cardiovascular risk factors and heart disease earlier by a comprehensive approach will have a significant positive impact in decreasing morbidity and mortality. His personal interest and hobbies are spending time with his family and horses, playing tennis, soccer, hiking, and biking.
Please click here to view Dr. Carlos M. Orrego's Spanish biography .